A flat deck trailer is an uncovered trailer that has a flat loading platform.
They come in sizes range from small domestic trailers through to heavy drawbar and semitrailers.
The important thing is that the whole deck becomes flat and is accessible from the sides and rear.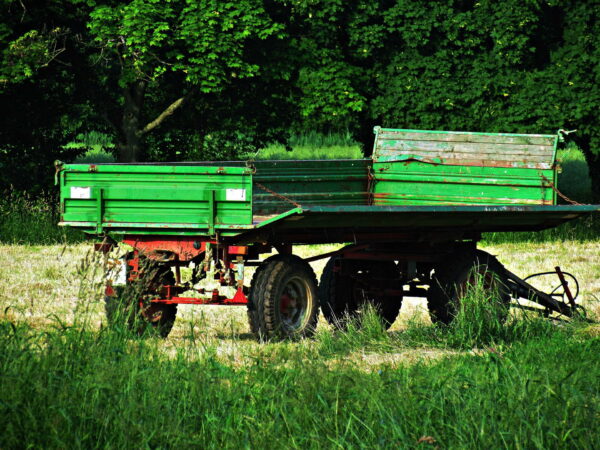 Smaller flat deck trailers tend to have fold down sides, a small headboard at the front and light rope rails to attach tarpaulins, while heavy flat deck trailers have bigger rope rails that will take ratchet straps and often have a large headboard, pockets for stanchions and sometimes loading ramps. Heavy flat deck trailers are usually built with a small upwards bend in them which flattens out when a heavy load is placed on the deck.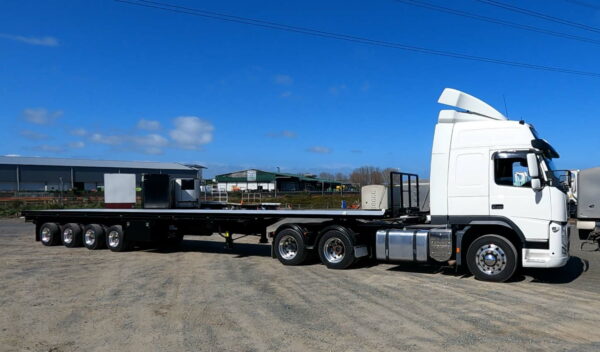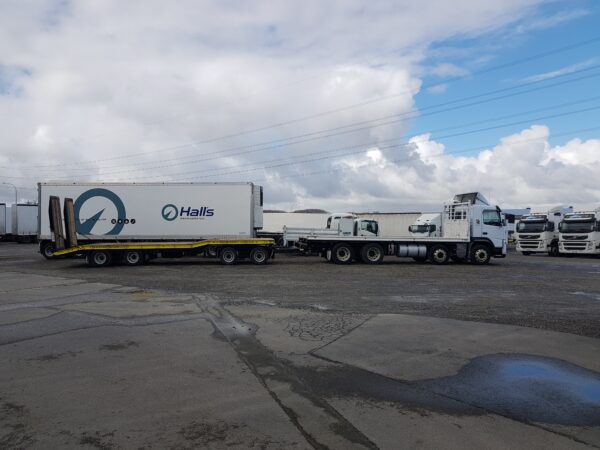 Why use a flat deck trailer?
Flat deck trailers are used for many applications:
transporting vehicles that need to be driven on and off, for example, dump trucks, quad bikes or forklifts
transporting light loads of aggregate or soil where the trailer might need to be loaded manually (i.e. high sides would make it impractical)
for items that are not suitable for curtainsiders due to being too long, such as long steel beams (i.e. the curtain poles or the roof gets in the way when loading)
for items that are not weather-sensitive
when a cheaper trailer will suffice (flat deck trailers are cheaper than hardside or curtainside trailers)
carrying ISO containers when a skeletal trailer isn't available
carrying loads that are loaded and unloaded by a truck loader crane.
Load security on flat deck trucks and trailers
Rope rails and/or chain hooks are supplied as fixing points to tie loads down. Heavy trailers will have ratings for all fixing points whereas light trailers don't always have them.
Headboards will have a rated capacity and loads must be secured as to not point undue force through the headboard under braking.