If you have lorries visiting your warehouse or yard to make deliveries or pick up goods you run the risk of accidents between people and machinery. You must have a set of health and safety guidelines and you must implement control measures to keep your workers and members of the public safe whether they're operating a forklift or walking around the yard. Every year, there are many injuries and deaths caused by freight and vehicle movements in workplaces.
Setting up the perfect system for visiting lorry drivers
If it's a lorry driver's first time visiting your premises, they should complete a health and safety induction to make them aware of any hazards. Drivers who visit multiple locations will usually be savvy to most of the types of hazards that they will encounter, but it's important that you make them aware of all the ones on your site. However you present it to them, you need to make sure they have understood it and it's not just a box-ticking exercise. There are various ways of doing it such as:
Walking them around the site with one of your health and safety team or a supervisor

A video or interactive introduction

A printed guide with a sitemap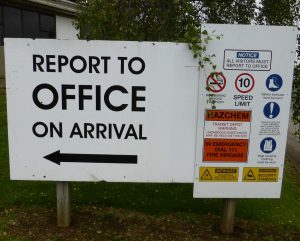 At your gate, there should be a signboard identifying the hazards (e.g. forklifts, dangerous goods), the maximum speed, any requirements for safety equipment such as steel-capped boots and high-vis clothing, what to do in an emergency and where to report to (i.e. the direction of the office). This should be sufficient for repeat drivers to remind them of the health and safety requirements.
A one-way system in your yard is safest as it minimises vehicles going in opposite directions and the need for a lorry driver to reverse. If reversing is required, providing a spotter to help will be appreciated by the driver.
Your loading bays and driving areas should be clearly marked. Clear line markings help drivers position their vehicles accurately and this saves manoeuvring time.
Marked pedestrian walkways will help drivers of lorries and other machinery like forklifts to understand exactly where pedestrians are likely to be.
If you have an exit from a warehouse, use barriers and other control methods to prevent pedestrians simply walking straight out into danger. All workers in a yard with vehicles should be wearing some kind of hi-vis vest.
If you have members of the public in your yard to make purchases, can you separate out delivery vehicles using cones or other barriers?
The lorry driver must know where to wait while the lorry is being unloaded or loaded. Standing next to the forklift is not acceptable. You could provide a waiting area with coffee and tea for the driver. They may be able to use that time as part of any mandatory rest breaks.
The more of these suggestions you can implement, the less likely you are to have an incident involving a visiting truck driver.