Whether you've just learned to drive and are choosing your first car, or whether you've been driving 50 years, there's probably new technology in cars that you don't know about and in this article we'll discover ten different systems. They come about through two processes: safety improvements, and competitive differentiation in convenience and luxury.
Lane Departure Warning
Lane Departure Warning uses cameras to follow the white lines on either side of your lane. If it detects that you are crossing the line then it will provide audio (e.g. a warning sound) and/or tactile (e.g. vibrating steering wheel) feedback to alert the driver. It's helpful for sleepy and distracted drivers, but can be over-sensitive in city environments.
Rear Cross Traffic Alert
Rear Cross Traffic Alert uses two sensors at the rear of the car to scan sideways while you back out. It covers the blind spot caused by vehicles parked either side of you. It's not foolproof as it can't extend that far up the road so is only really useful for pedestrians, cyclists and slow-moving traffic.
Adaptive Cruise Control
Adaptive cruise control or radar-based cruise control maintains your speed like regular cruise control but it also has access to your brakes. If you catch up with another vehicle while then it uses radar to keep the distance to the vehicle in front fairly constant. Manufacturers usually offer three distances which equate to roughly 1, 2 and 3 seconds. This technology is often supplied with auto-braking technology that helps avoid nose-to-tail crashes.
Blind Spot Monitoring
Blind Spot Monitoring uses sensors on the side of the car to detect if a vehicle is in your blind spot. It won't warn you until you turn on your indicator that might mean you would move into the other vehicle's path. The usual warning is a flashing orange light either on the wing mirror or the door pillar.
Key fob recognition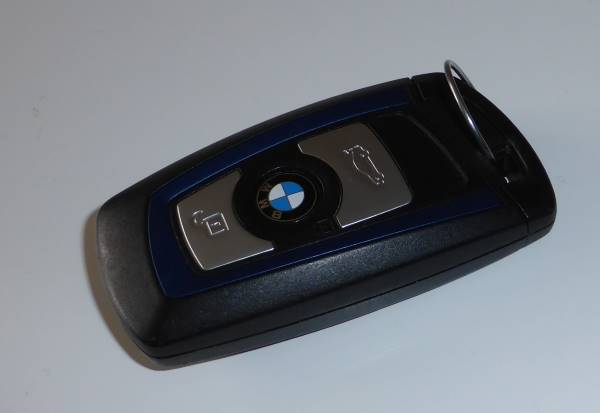 Key fob recognition allows personalisation and comfort/convenience items to be tailored to you as you walk towards the car. For example the car can turn on puddle lamps (lights that shine from under the door handle and wing mirror to illuminate the kerbside), and can adjust seat position and other vehicle preferences. The one above is from a BMW.
Keyless entry and start
Keyless entry means you can keep your key in your pocket and you can unlock the door either by holding the handle or by pushing a small button on the handle. Once inside the car, push the start/stop button to start the car. The key doesn't need to come out of your pocket. Check out this video which also shows a Nissan with power sliding doors and a powered boot (which we mention below).
Electronically closing and opening boot lids
This convenient item can be fantastic as you are walking towards the car, heavily laden with shopping (as long as you can get your key fob out to push the button. When you want to close the boot it's only useful for heavy boots on large SUVs which might be difficult for shorter people to close. The closing mechanism is much slower than closing a non-electronic boot, and also it will stop closing if anything is in the way. We all know that a good slam of the boot lid is the final process in squeezing the last bit of space out of an overloaded boot when we're going on holiday.
HUD (Head-up Display)
Head-up displays project an image onto the windscreen that means you don't have to take your eyes off the road to get information. It's most useful with speed and navigation instructions.
Bluetooth integration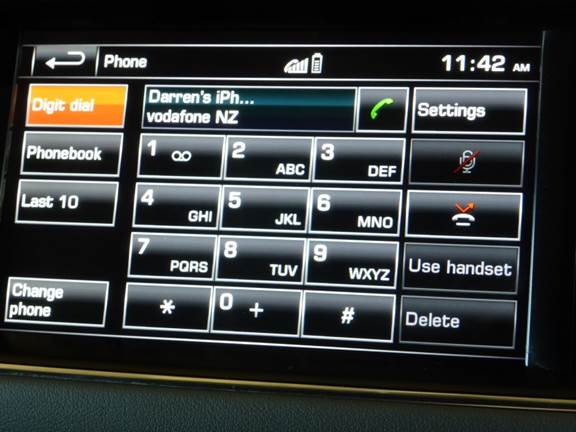 Bluetooth is the de facto standard short range communication protocol for smartphones and other devices. It means that you can get in your car, your car automatically connects with your phone (after you've paired it the first time), and you can use the car's hands-free phone system to make and receive calls, and (often) you can stream audio directly from your phone. You will get more functionality if you plug your phone in using USB, but it's not as convenient to do that – with Bluetooth you just leave it in your pocket.
Electric-only vehicles
While it used to be just the milk floats on our roads that were electric we now have an ever-expanding range of electric vehicles to choose from. Ranges can be as much as 300 miles, which is enough for almost all car journeys made by the average person. Charging technology will continue to improve and our roads hopefully will become less polluted and quieter.