It's illegal to both use a mobile phone when you are riding a motorbike or driving a car, and when you are supervising a learner driver from the passenger seat.
There are some exceptions for when you can use a phone while in a vehicle.
You are in a passenger seat and the driver is fully licensed.
You are in a back seat, the driver has a learner licence and a supervisor is in the front seat.
You are safely parked (note that this does not include when you are stopped at a junction or at traffic lights).
You need to call 999 or 112 in an emergency and it's not possible for you to stop safely, or you need to keep following a driver to report their movements to police.
You are driving, but the phone is in a cradle and is hands-free.
You are driving, but the phone is in a cradle and you're using it as a satellite navigation device.
With the last two exceptions, if police believe you are distracted and not in control of your vehicle then you could still be stopped and penalised.
Fines for using a mobile phone while driving
You'll receive an automatic fixed penalty notice with three penalty points and a fine of £100. The case could go to course in which case you could be disqualified from driving or riding and fined a maximum of £1000. If you drive a bus or goods vehicle, the maximum fine is £2500. Note that penalty points could affect your insurance premiums.
New drivers who have passed the driving test less than two years ago should be aware that three penalty points is half way to losing their licence, and on the second offence it will result in them losing their licence.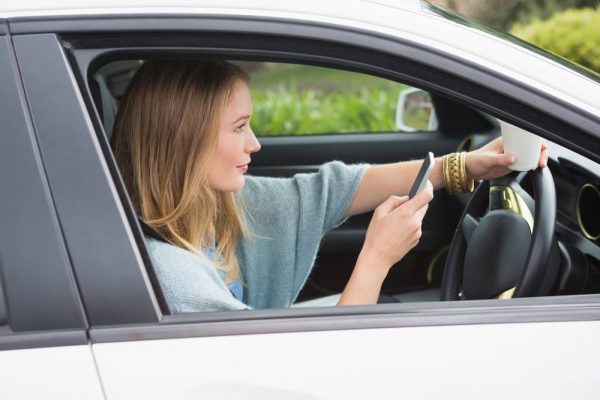 Dialling a phone when driving increases your risk of having an accident more than 12 times, while talking on the phone increases your risk by six times. This is because the brain can't multitask, it can only rapidly switch between tasks.