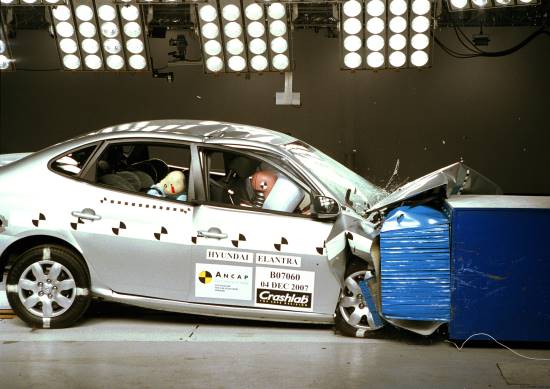 At some time in your life you are statistically likely to have a crash. Hopefully it's a minor one. But if it's not, you'll be glad you chose a safe car by taking into consideration crash test results. But how is 'safety' measured? All new cars have airbags and anti-lock brakes, and electronic stability control is now mandatory on cars built in Europe. Who tests cars for safety and what do they do?
The four main crash testing agencies worldwide are Euro NCAP (European New Car Assessment Program), IIHS (Insurance Institute for Highway Safety [USA]), JNCAP (Japan New Car Assessment Program) and ANCAP (Australasian New Car Assessment Program [Australia and New Zealand]).
The majority of ratings you will see on cars here in the UK are Euro NCAP ratings. Grey imports might have a JNCAP rating, if you want a Holden then it will have an ANCAP rating and some American cars will have IIHS ratings. Euro NCAP and ANCAP use star ratings out of 5, whereas JNCAP gives a rating out of 6 stars and IIHS gives 5 measurements (one per crash type) with Good, Acceptable, Marginal or Poor.
Euro NCAP and ANCAP are fundamentally the same as ANCAP is based on Euro NCAP. JNCAP uses a different speed in its tests. IIHS has two extra vehicle tests, doesn't measure pedestrian impact and uses a different rating method (i.e. not stars).
How do you use the test results when looking for a car?
What do you need your vehicle for? Is it an urban runabout, or will you be towing a horse float on muddy fields? Do you have a family or are you flying solo (and occasionally tandem for some fun)? What's your budget, and how much can you afford to spend on insurance and running costs? All these need to be taken into consideration and the answers to the question can exclude whole segments or classes of cars.
Classes of cars are not comparable
A 5-star rating on a small car does not equal a 5-star rating on a large SUV. This doesn't mean that the SUV is necessarily stronger in any or all of the tests. Cars are rated in their categories. While an SUV might fare better in an accident with a large sedan than a small car would, the small car may never have got into that situation in the first place because it quite possibly handles and stops better.
Not all tests are equal when it comes to age
A 5-star rating given in 2001 will be completely different to a 5-star rating given in 2014. It's important to check the date of the test. The newer the test and the higher the rating, the better the protection, but only within the same class of car. Newer cars are likely to have superior handling to older ones and therefore it might be possible for you to avoid an accident altogether.
Therefore, consider what your vehicle will be used for and then pick from the better results within that category. If a crash test rating isn't displayed with the car you can ask the dealer if it's available and, if not, check on the internet on the testing agencies' websites (all links open in a new window):
Types of tests
Euro NCAP and ANCAP
ANCAP is based on Euro NCAP and uses the same tests.
Frontal offset simulates approximately half of the front of the car hitting an object of equal mass and speed.
Side impact simulates a car hitting the side of the car.
Pole test simulates the car sliding sideways into a tree or pole
You can see all three of the above tests in this Mitsubishi Outlander video
JNCAP
JNCAP uses the frontal offset and side collision, plus a full frontal impact, and a rear-end collision to simulate whiplash injuries. This video shows the full frontal impact, frontal offset, whiplash and side impact tests on a Toyota Crown Royal
IIHS
IIHS uses the same tests as Euro NCAP, plus a small overlap frontal and a roof strength test. If you want to see how much cars have come along in over 50 years, check this video out showing a 1959 Chevy Belair vs a Chevrolet Malibu. Malibu 1 – Belair 0. The footage from inside the Belair is scary.
And this video shows IIHS preparing for a crash test.