It can be challenging for drivers who struggle with their English to understand enough to do their job. In trucking, instructions are primarily given by a dispatcher, as well as written on dockets and dispatch paperwork. Trucking has its own set of words – a vocabulary – and the driver will need to know important concepts about the truck and load to function in their job. Driver CPC (35 hours of training which is required every 5 years) is also delivered in English.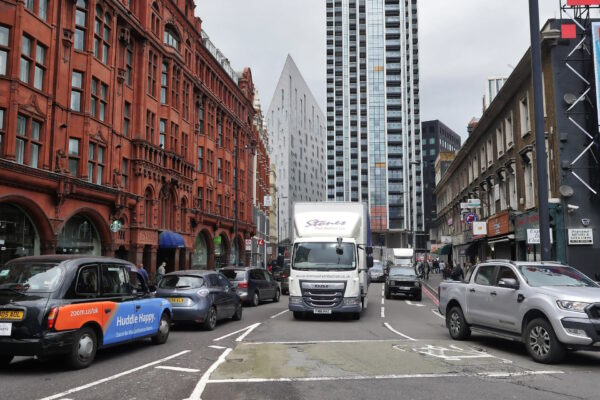 Enough to thoroughly understand documentation requirements
When applying for a truck driving position in the UK, you must demonstrate your ability to read, write, speak, and comprehend English. You will likely fail the application if you fail to understand the requirements, whereby most of the UK application forms are written in English. If you don't speak English, or English is your second (or third!) language, you may consider enrolling in an English school in London to gain proficiency in reading, speaking, and writing. You must gain enough English proficiency because you will be required to communicate with your managers, colleagues and possibly clients as part of your role.
Enough to correctly read road signs and signs at delivery sites
Failure to understand road signs can harm you and other road users. While many road signs in the UK follow international conventions and are pictograms, there are lots of examples of signs where clear instruction is given in the English language. Therefore, you must be able to read the signs to avoid road accidents, breaking the law or wasting the company's time when you head in the wrong direction because you failed to understand the signs.
English proficiency is particularly crucial in understanding the delivery site signs which frequently give specific directions and health and safety information. Trucks often have their own dedicated entry and exit which will be marked using words and are distinct from the entry for light vehicles. Entering with a truck could mean (at best) an embarrassing reversing exercise or, perhaps something worse such as getting stuck and blocking the entry or exit. Some areas might be prohibited or somewhat restricted for some types of vehicles.
A truck driver must understand loading and offloading areas and speed limits, as well as transport lanes and regulations.
Enough to communicate effectively
It's crucial to communicate with clients and coworkers. A driver must pay attention to and comprehend verbal job instructions given by a manager or trainer. The driver should be able to participate and follow along with meetings, such as staff meetings and toolbox sessions. It should be possible for the driver to communicate with the contact at the pickup and drop-off locations. They might need to have a customer confirm specific details.
They must be able to communicate with police if stopped.
They must be able to describe issues with the truck to maintain it. They will be able to ask inquiries to find out the proper format and information if there are mistakes in the documentation. They ought to be able to justify their refusal to carry a load. A driver will have to talk about working conditions and work conflicts. The ability to speak conversationally in English, present information logically, and use acceptable body language are all requirements for drivers. They should be able to ask the right questions and demonstrate active listening techniques, such as repeating instructions back to the speaker and summarizing them in their own words. Drivers need to comprehend linguistic nuance and conversational interpretation.
English proficiency is essential when you work in the UK. As a truck driver, you might be crossing the Channel to get to other countries, but generally people will speak in English. It helps you to read instructions, write, and communicate with others effectively. To apply for a truck driver's job, you must prove this proficiency to satisfy your employer. If you fail to qualify for the English requirement, there are schools that help foreigners learn English to make their working life in the UK easier.