If you carry a child under 12 years old or under 135cm tall you must use either an approved child seat or child booster cushion/seat when travelling in the front or rear of any car, taxi, private hire vehicle, van or goods vehicle. After this they must use an adult seat belt. The driver is responsible for ensuring any children under 14 years old are restrained correctly in accordance with the law. Note that in Europe the law is children up to 150cm. Children usually reach 135cm (4′ 5″) at around 9 years old. 150cm is 4'11".
The following table outlines all the scenarios and exceptions.
Vehicle occupant
Front seat
Rear seat
Person responsible?
Driver
Seat belt must be worn if fitted in the vehicle
Driver
Child up to three years old
Approved child restraint of correct size must be used. No rear-facing seats if there's a front passenger airbag
Approved child restraint must be used. If one is not available in a licensed taxi or private hire vehicle, the child may travel unrestrained, only in the rear.
Driver
Child from third birthday up to 135cms tall or 12th birthday, whichever comes first
Approved child restraint of correct size must be used
If seat belts are fitted, an approved child restraint of the correct size must be used.The child must use an adult belt in the back seat if an approved child restraint is not available either:

In a licensed taxi or minicab (private hire vehicle)
For an unexpected journey (must be necessary and over a short distance)
If two occupied child restraints prevent fitting of a third, in which case the child must travel in the front seat in an approved child seat.

A child over 3 can travel in a back seat without a car seat and without a seat belt if the vehicle doesn't have one.

Driver
Child 12 or 13, or over 135 cm tall
Seat belt must be worn if fitted
Seat belt must be worn if fitted
Driver
Passengers aged 14 years and over
Seat belt must be worn if fitted
Seat belt must be worn if fitted
Passenger
Types of seats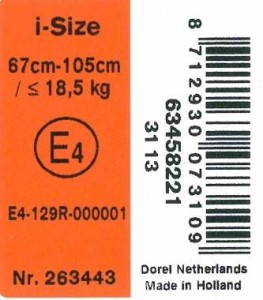 Only EU-approved child car seats can be used in the UK. Look for a label showing a capital E in a circle. Note that if you are importing a child car seat from another country, it might comply with that country's regulations, but you will need to check with the manufacturer if it meets the EU regulations.
Newer labels will show either ECE regulation 44.03 or R44.04, or i-Size information, like the one shown. This is for a child between 67-105cm tall, weighing less than 18.5kg. It also shows the country of manufacture.
You must only use a car seat with a seat belt that has a diagonal strap unless the seat is specifically designed for use with a lap seat belt.
The seat must be properly and securely fastened within your car. If you have ISOFIX connectors, use them as this will hold the seat more securely.
What type of seat should you use?
| Type of seat | Weight |
| --- | --- |
| Rear-facing baby seats | Babies up to 13kg |
| Forward or rear-facing baby seats | Children from 9 to 18kg |
| Forward-facing child car seats (booster seats) | Children from 15 to 25kg |
| Booster cushions | Children over 22kg |
Some cars come with built in booster cushions, such as this one in a Volvo which is designed for passengers 15-36kg, with a minimum height of 90cm.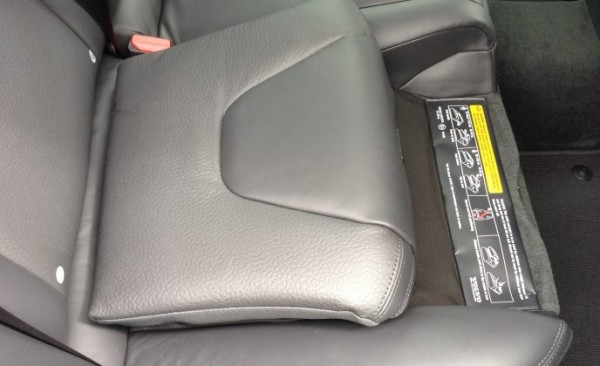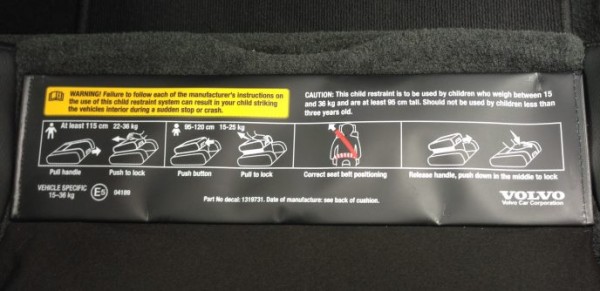 Penalties
There is a fixed penalty of £100 for failing to wear a seat belt as a driver or passenger. If you go to court and lose you face a fine of up to £500. Failure to wear a seat belt may also affect claims against your car insurance policy, and if you crash and injure someone else's child in your car, you could be subject to a civil proceedings for damages.
Buying a new seat
It's best to buy a new seat as you will be getting on that complies with the latest safety regulations. Choose a retailer that has a person trained to help you pick the right seat.
It's important that you try the seat in your car to make sure it fits, and that you try your child in the seat. This makes it difficult to purchase online or by mail order. If you do want to purchase that way, ensure that they have a returns policy if it is not suitable.
Check that the seat meets i-Size regulations or ECE Regulation 44.04 or R 44.03 and has the E mark in a circle. There will be a label on the seat.
Consider how you'll be using the seat. Will you leave it in the car, or be taking it in and out. Do you do a lot of long journeys where a seat that reclines could be more relaxing (i.e. less likely to induce crying and irritability) for your child?
Child seats are tested using the Euro NCAP standard.
Size of seat
Child
Restraint type
Baby <10 kg (22 lbs), approx. from birth to 6 – 9 months old
Group 0
Rear-facing baby seat
Baby <13kg (29 lbs) approx. from birth to 12-15 months old
Group 0+
Rear-facing baby seat
Baby <15 months old
Rear-facing. Check i-Size
Baby or toddler <18 kg (40 lbs), approx. from birth to 4 years old
Group 0+ & 1
Rear/forward-facing
Combination seat
Baby/child weighing <25 kg (55 lbs), approx. birth to 6 years old
Groups 0+, 1 & 2
Rearward and forward-facing
Combination seat
Toddler between 9-18 kg (20-40 lbs), approx. 9 months to 4 years old
Group 1
Forward-facing child Seat
Toddler/child between 9-36 kg (20-79 lbs), approx. 9 months to 12 years old
Group 1, 2 & 3
Forward-facing
Combination Seat
Child between 15-25 kg (33-55 lbs), approx 4-6 years old
Group 2
Forward-facing
Booster Seat
Child between 15-36 kg (33-79 lbs), approx. 4 to 11 years old
Groups 2 & 3
Forward-facing
Booster Seat
Children between 22-36 kg (48-79 lbs), approx. from 6 – 11 years
Group 3
Booster Cushion
Is the child car seat suitable for my child?
Yes
No
Second hand seats
Just like with motorbike helmets, you never know if a second hand car seat has already been involved in an accident which could have caused structural weaknesses not visible to the naked eye. Standards improve periodically and older seats may not offer the same level of protection that newer seats provide. If you are offered the use of a car seat by a family member or friend, ask them about its history and check that the original instructions are available. Carefully examine it for damage. Check its suitability for your child and whether it fits in your car, and ensure that it has the E mark to say that it complies with Regulation 44.04.