A motorbike is going to be cheaper in the long run than driving a car, but it still can cost quite a bit to get your full A licence. Plus, the process is extremely confusing, so hopefully this demystifies it. At the end of the article are the DVSA flow charts for licence A1, A2 and A.
The main advantage over learning on a bike vs a car is that once you have your provisional licence and a set of L plates you can ride unaccompanied on a 125cc motorbike anywhere except on motorways.
Before you can do this, though, you'll need to complete a Compulsory Basic Training (CBT) course.
Compulsory Basic Training
CBT is the first step in getting your licence. You'll spend a day learning the basics of motorcycle handling. There's no test at the end of it – you simply do the training to ensure that you can ride a bike.
It is against the law to ride on a public road on a moped, scooter or motorbike without a CBT certificate, unless you passed your UK test before 1 February 2001 in which case you can ride a 50cc moped on a car licence.
Training centres will often provide the bikes and helmets. You will need to bring long trousers, closed shoes (preferably boots) and a long-sleeved jacket.
At aged 16 a CBT will allow you to ride a moped up to 50cc. At aged 17 you can ride a 125cc motorbike with up to 15bhp (find out more about learner motorcycles here).
What does the CBT course include?
There are five sections:
introduction
practical on-site training
practical on-site riding
practical on-road training
practice on-road riding
Most CBT training is conducted in a group, which keeps the cost down.
The CBT is valid for two years and you should expect to pay around £100-140, depending on whether you use your bike or a hired bike.
Theory test
You will need to take the theory test once you have your CBT certificate. You can practice the theory test for free by clicking on Motorbike Tests at the top of this page.
Test: £31
Hazard Perception Test DVD training materials: £15
Direct Access
If you are over 21 you could qualify for Direct Access if you have held an A2 licence for a minimum of 2 years, which means you can shortcut the process by taking an intensive course usually taken over 3-7 days on a more powerful bike of at least 46.6bhp/35kW. Course prices range from £500-1100 depending on location and the time of year (you can often negotiate cheaper rates in winter as demand is much lower).
A1 Practical test
If you are under 19 then you can go for your A1 licence. You will need your provisional licence and be at least 17 years old. After the course training and test you can remove your L plates, carry a pillion passenger and ride on motorways.
Course prices range from £400-600
Practical test (off-road): £15.50
Practical test (on-road): £75-88.50 (weekday vs weekday evening/weekend/bank holiday)
A2 Practical test
Most people moving to an A2 licence take a course over several days which incorporates the two modules (off-road and on-road). You must pass the off-road module before progressing to the on-road module. You might need to take time off work, so this is an expense for you. Passing it means you can ride a bike up to 46.6bhp.
Course prices range from £500-1100
Enhanced Rider Scheme
Passing an Enhanced Rider Scheme course gives you significant discounts off your insurance and will give you an unlimited A licence.
Your assessment will be 1-2 hours long. If you pass straight away you'll be given a certificate; if not, then you'll be advised what extra training you need. Expect to pay between £100-180.
Other costs
Additional lessons
While you can go out and practice on your own once you have your restricted licence, it's a good idea to have a few extra lessons. They can usually be bought for around £20/hr
Ownership and running costs
We haven't included the cost of purchasing your helmet (read our guide here), protective clothing, motorbike, tax and insurance. Plus, you will need to maintain and fuel the bike.
Overview of costs
If you are going to go through each step then here's a rough guide:
CBT: £100-140
Theory test: £31
HTP DVD: £15
A1 training: £400-600
Practical test (off-road): £15.50
Practical test (on-road): £75-88.50
A2 training: £500-1100
2nd practical test (on-road): £75-88.50
Enhanced rider schemes: £100-180
Of course, you can skip some steps – check out the images below.
Bike categories, ages and licence requirements
| Licence category | Vehicles you can ride | Requirements for licence | Minimum age |
| --- | --- | --- | --- |
| AM | Mopeds with speed range of 25 km/h to 45 km/h | Compulsory basic training (CBT), theory test, practical test on all powered 2-wheeled moped | 16 |
| AM | Small 3-wheelers (up to 50 cc and below 4 kW) | CBT, theory test, practical test | 16 |
| AM | Light quadricycles (weighing under 350 kg, top speed 45 km/h) | CBT, theory test, practical test | 16 |
| Q | Same as AM plus 2 or 3-wheeled mopeds with top speed of 25 km/h | Granted with AM | 16 |
| A1 | Small motorbikes up to 11 kW (and a power-to-weight ratio not more than 0.1 kW per kg) and 125 cc | CBT, theory test, practical test | 17 |
| A1 | Motor tricycles with a power output not more than 15 kW | CBT, theory test, practical test | 17 |
| A2 | Medium motorbikes up to 35kW (and a power-to-weight ratio not more than 0.2 kW per kg), bike mustn't be derived from vehicle more than twice its power | Direct access route – theory and practicalStaged access route – 2 years experience on A1 motorbike and a further practical test | 19 |
| A | Motorbikes unlimited in size/power, with or without a sidecar, and motor tricycles with power output over 15 kW | Direct access route –CBT theory and practical (you must be at least 24)Staged access route – held an A2 licence for a minimum of 2 years – practical test (21 or over) | 24 (direct) or 21 (staged access) |
Which type of licence are you going for?
The following four diagrams show you the process for each type of licence. Click on them to open a larger version.
A1 light motorcycle (up to 125cc not exceeding 11kW)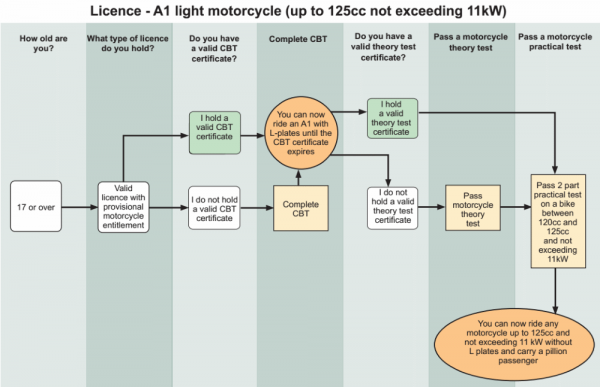 A2 motorcycle (medium motorcycles up to 35kW)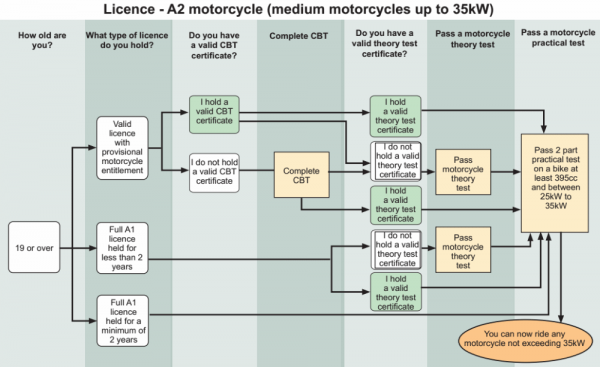 A motorcycle – unlimited in size and power (age 21-23)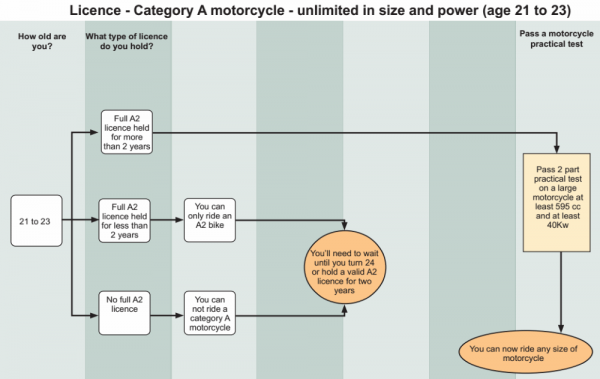 A motorcycle – unlimited in size and power (age 24 and over)