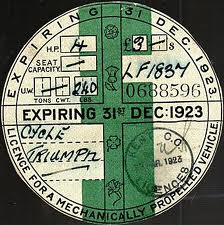 The government is changing the law in 2014 to reduce tax administration costs and burdens associated with vehicle tax.
DVLA will offer motorists the ability to spread their vehicle tax payments should they wish to do so. From 1 October 2014 motorists will be able to pay vehicle tax by direct debit annually, biannually or monthly.
Also from 1 October 2014, the paper tax disc, first issued on 1 January 1921, will no longer be issued and required to be displayed on a vehicle windscreen. That means no more fiddling with those tricky perforations, plus thousands of trees breathing a collective sigh of relief.
Vehicle tax will still need to be paid but with DVLA having a digital record of who has and has not paid, a paper tax disc is no longer necessary as proof that vehicle tax is paid.
In the meantime, step back in time and look at the tax disc from 1923 above.