There are two main types of heavy trailers: a semitrailer and a drawbar trailer.
A drawbar trailer is a self-supporting, unpowered trailer which has at least one axle at either end of the trailer. The front axle is connected to a drawbar and the axle pivots to provide steering, following the direction in which the drawbar is pulled. This is sometimes called a dolly.
The key differences between a semitrailer and a drawbar trailer are that a semitrailer does not have wheels at the front, it has a kingpin which fits inside a fifth-wheel or turntable coupling, and the front of the trailer is supported on the rear wheels of the prime mover.
Drawbar trailers are called full trailers in America and New Zealand, and dog trailers in Australia.
What type of trailers are drawbar trailers?
Drawbar trailers can be almost any type, but the most common ones are curtainside, box body or hardside, tipper or flat deck. Curtainside and hardside can both be in refrigerated format. There are specialist trailers such as bottom dumpers for spreading aggregate.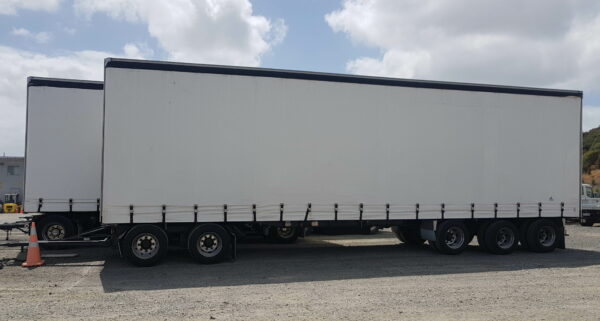 The trailer must comply with the local maximum height, width and length, as well as meeting any engineering standards. The drawbar length is dictated by function and overall length.
Short drawbars are used to maximise the amount of load that can be carried as they allow for longer deck lengths within the maximum length.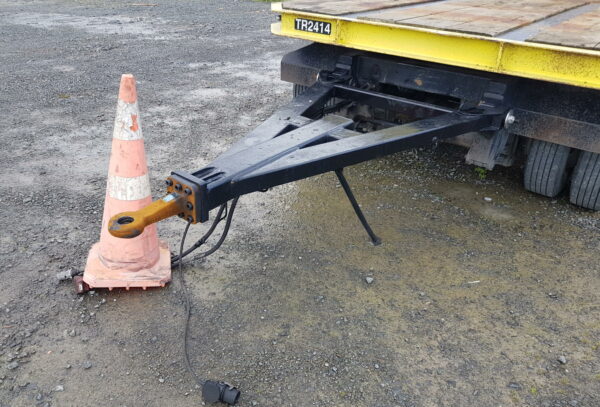 Long drawbars are used where a truck and trailer unit might need to be jackknifed deliberately.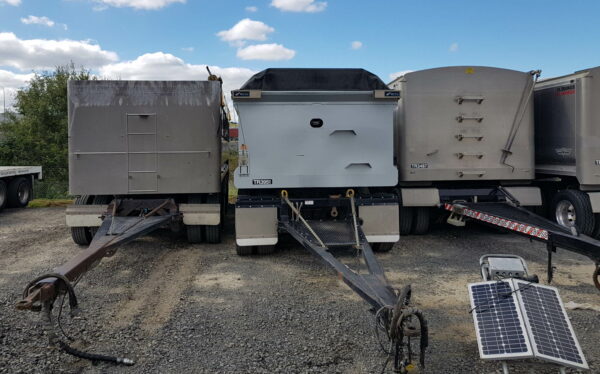 This is common in mining and quarrying where the trailer is emptied, the driver pulls forwards, then reverses again, but this time jackknifing the trailer out of the way so that any load carried in the truck can be dumped (or vice versa).
How are drawbar trailers coupled?
The drawbar has a towing eye at the front. This is guided into the jaws of the coupling device where a pin drops through the towing eye. This pin is either 40mm or 50mm, depending on the manufacturer and model.
What vehicles can pull a drawbar trailer?
A prime mover or a rigid heavy vehicle can pull a heavy drawbar trailer. Some agricultural vehicles will be able to, but light vehicles will not. A typical weight for a heavy trailer is between 5000-8000kg.
The towing vehicle must have the right type of coupling to tow a drawbar trailer. While small drawbar trailers usually have a ball and hitch coupling, heavy trailers have a pin coupling where the pin drops through the towing eye. Common brands of this type of coupling are V. Orlandi, Ringfeder and Rockinger.