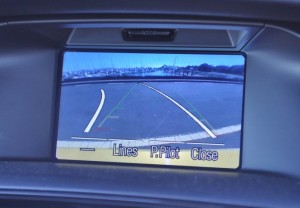 A number of factors are influencing the adoption of reversing cameras and reversing (or parking) sensors in cars, pickup trucks and vans. Reversing sensors began with simple curb sensors which grew in complexity from the 1950s through to the 1980s. They were primarily a flexible wand which, when it touched the kerb, triggered a noise inside the car. Reversing sensors were perhaps seen on the E38 BMW 740 and 750 models which began production in the mid-1990s (do any of our readers know of an earlier model than this?) A reversing camera was first seen on the Buick Centurion concept car in 1956 which sent images to a TV screen on the dashboard from a rear-mounted camera, although they didn't become mainstream until the 1990s when the Toyota Soarer and Infiniti Q45 were available with them.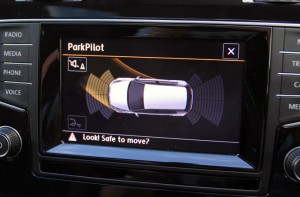 The first microwave-based parking sensor system patent was filed on 8 June 1993 in the USA. Prior to this, laser, infrared, ultrasonic and camera-based systems had been used, but had their drawbacks. Lasers were too focused, infrared systems suffer from absorption and bad reflections depending on the material being detected, ultrasonic sensors are highly sensitive to atmospheric conditions (particularly wind and rain) and cameras (at the time) were expensive with no way of overlaying helpful graphics. Plus, cars did not come with screens in the dashboard. The microwave detector solved all these problems.
Initially the microwave sensors triggered some kind of audible warning. Companies such as Audi offered the warning in stereo so you could tell which corner was in peril. Most manufacturers now have some kind of screen with a visualisation of the car so that you can see the approaching object.
Since the mid-1990s the technology has become cheaper as electronics have become cheaper. Many cars have sensors both front and back and even on the side to create blind spot monitoring systems or rear cross-traffic alerts to help warn of approaching vehicles when you are reversing out of a parking spot.
Cameras are also increasingly popular. It began with just simple, small screens that displayed the image from a fisheye lens mounted on the boot, usually next to the handle. The most modern cameras come with guidelines that move as you turn the steering wheel to show you where you will end up. Some systems overlay other graphics such as warnings if it detects you might collide with an obstacle. Volkswagen's Beetle has a camera that pops out from under the badge, and then retracts when you put the car in driver. Honda has three camera views, including one that's almost straight down so that you can see the kerb.
The BMW 6 Series has a camera in the nose which looks each way up the street as you edge out of a blind junction. Several cars also have cameras in the wing mirrors, such as the 2013 Honda Accord. The two images in this article are from the Ford Focus ST (top) and the Volkswagen Golf TSI.
So, why is it all happening?
Visibility
Modern vehicle design puts the emphasis on safety, and that means thicker rear pillars and smaller rear windows have become more common. This restricts the view of the rear corners of the car and, along with the general sculpted sides, high belt line and rounded design, makes it hard to judge where you are when manoeuvring.
Even though you are allowed to remove your seat belt while reversing, it still isn't enough to be able to see clearly.
Safety
Smaller rear windows and our tendency to want to drive large SUVs means that on some cars there is a blind spot two to three metres behind the car – if a two-year-old was standing a metre and a half behind the car, you wouldn't see him if you looked out of the rear window!
Hundreds of young children die worldwide each year when people reverse over them in driveways. Rear-facing cameras and reversing sensors save lives.
Feature creep
Technology that starts out expensive eventually becomes cheap. A manufacturer will put it on a car to gain a competitive edge. Then the competition has to match it. Then it filters down to a lesser model and the cycle continues until all models in the range have the technology. This happened with airbags, ABS, cruise control, traction control and other systems we take for granted on new cars.
Within 10 years, I predict all cars will have front and rear parking sensors, and almost all cars will have a rear camera. In fact, it was only six years ago that you would be hard-pressed to find that many cars that had automatic rain-sensing wipers outside of expensive European ones which began including them in the mid-1990s; now they are becoming the norm.
Damage minimisation
Cars have gradually become larger (although, there is a trend towards smaller city cars, too). However, parking spaces have not always kept up with these size increases and therefore parking has become more difficult. Some cars will park themselves, but if you don't have one of those, reversing sensors and/or a camera can help prevent you from backing into another person's pride and joy.
You still need to look, though
All the technology, though, does not absolve you from looking – that means turning your head, and using your mirrors. There will be things that parking sensors don't pick up very well, like thin posts, or your cat lying on the driveway. Reversing cameras often give a distorted view of distance, even if they do have distance lines overlaid on the graphics.
Expect technology in cars to continue to increase in complexity. Safety systems will continue to get better as vehicle manufacturers attempt to be perceived as the safest car for the family.
If you want to retrofit a camera to your car, retailers such as Amazon have a range of options – check them out here.