A side loader can refer to twin hydraulic cranes that self-load and unload containers on or off a lorry or trailer, it can be a type of forklift and occasionally it refers to a bin lorry. We're going to explain the lorry side loader.
Why use a side loader?
Millions of containers are moved by road every day. To get the container on a lorry or trailer requires some heavy lifting equipment. Typically, straddle carriers, reach stackers, forklifts, mobile cranes and container handlers are disproportionately expensive; if you don't need this type of equipment all the time, it's hard to get a return on investment.
Using additional equipment also requires two workers: the lorry driver and the machine operator. The driver has to wait for a slot to be loaded by the machine operator, which wastes time.
A side loader enables a lorry driver to drive alongside a container and load it to the lorry or trailer within five minutes.
The lorry driver can operate the side loader from controls on the trailer or, more commonly now, a remote which allows them to stand well away from the loading zone. This gives a better health and safety outcome.
Side loaders work well where space is limited around the container. They can load and unload anywhere the ground is reasonably solid and as they have no need for a counterbalance like a container handler or forklift would, they are good for areas where the ground is less stable. A strength is being able to drop a container in a place convenient for the client to access the container's contents.
How do side loaders work?
A side loader is two hydraulic cranes typically attached to a skeletal trailer. The cranes often are on a rail which permits them to move backwards or forwards to accommodate different length containers for the best position and weight distribution.
The cranes get their power from the lorry's PTO or power take off which draws power from the engine. The driver increases the revs at idle to between 800-1000rpm for optimum power to the side loader.
As the cranes extend, a stabiliser leg or outrigger is deployed. This stops the trailer or lorry from tipping over as it picks up or takes off the container.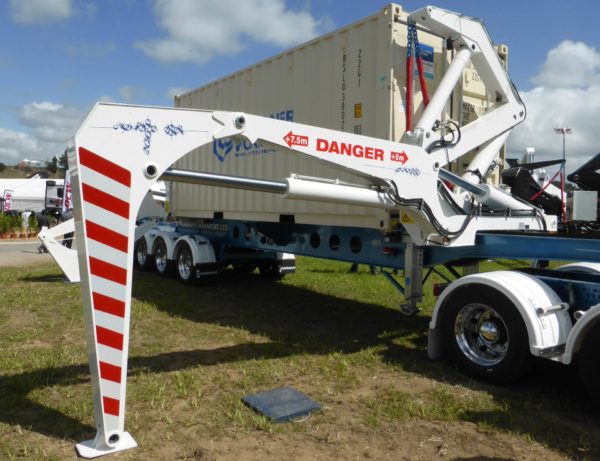 Chains are attached to each of the container's four corners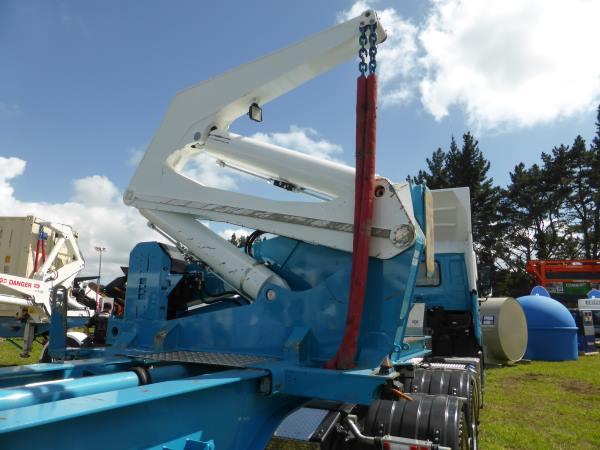 The side loader lifts the container onto or off the lorry or trailer, then the outriggers are retracted.
Containers are locked to the trailer or truck using ISO locks.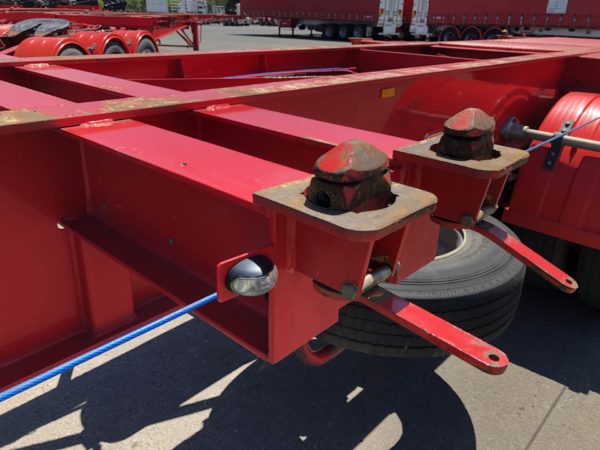 What can a side loader be used for?
Some side loader models can stack one container on top of another or transfer one container from its trailer to an adjacent trailer.
As well as lifting containers, a side loader can use various attachments to lift iso tank containers, prefabricated concrete, prefabricated cabins, vehicles, cable drums, pipes and machinery.
They work well for sensitive or fragile loads as the speed is controllable, and side loader maintenance is straightforward, as per regular hydraulic equipment.