Long-distance lorry drivers end up staying away from home sometimes weeks at a time. While drivers can stay at motels along the way, it's more convenient and cost-effective to be able to sleep in the cab. Drivers also have rest periods during the day to avoid fatigue, and a sleeper cab provides a driver a comfortable area in which to rest before setting off driving again.
At the most basic level, a sleeper cab is a simple bench, barely the width of the driver, with a long cushion and perhaps some curtains that can be drawn across to block out light from the cabin. At their most extreme, they are a rolling entertainment centre with a double bed or bunk beds, TV, microwave and gaming console.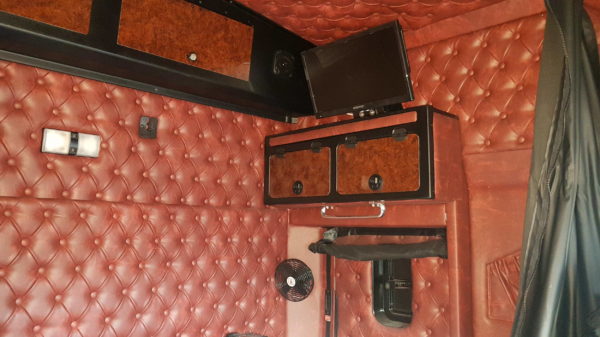 Larger sleeper units can be used by pairs of drivers who will optimise the time on the road, shortening delivery times and maximising the value from leasing a truck. With two drivers, a lorry could be driven for up to 20 hours per day meaning thousand-mile days are possible
Sleeper cabs are not without their issues, though:
They extend the length of the tractor unit which then reduces the amount of freight that can be carried
Drivers often have to leave the truck idling to maintain the right cab temperature, which causes pollution (noise and air).
Driver sleep can be interrupted by other truck movements close by, leading to a poor night's rest.
Sleeper cabs do not have toilet or shower facilities, so a driver still must find those.
If a person is using the sleeper cab while another driver is driving, they are not restrained and could be badly injured if the driver has to brake heavily.
Sleeper cabs add weight to the tractor unit, which uses extra fuel.