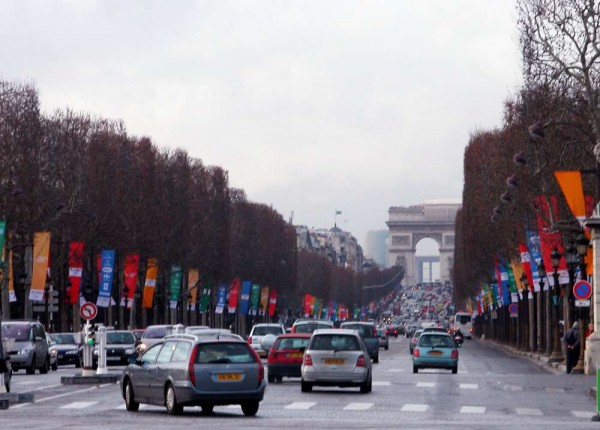 If you're heading off to Europe for a late summer holiday and you'll be driving there you will find some rules that won't be familiar to you if you've only driven here in the UK. If you don't have a numberplate with GB on it, you'll need a sticker.
Child seat laws vary from country to country and can be complex: check out this article on Wikipedia for list of links.
Every country in Europe requires front and rear seat passengers to wear seat belts when the vehicle is equipped with them. You also must carry a warning triangle and, if you are travelling to Nordic, Baltic, Soviet and Eastern European countries you will need a fire extinguisher.
Every country in Europe prohibits driving using a hand-held cellphone.
Every continental European country drives on the right so remember to adjust your mirrors and headlights.
Most European countries require you to have your insurance, vehicle and personal identification documents in the car while you are driving. It's a good idea not to leave them in the car when you're not driving, though.
Austria
If you see a sign with a bugle with a red line through it you are not allowed to use your car horn.
Belarus
It's illegal to drive a dirty car (though we're not sure how much dirt constitutes 'dirty'). Bulgaria and Russia have the same rule.
Belgium
In certain one-way streets cyclists are allowed to travel in both directions (if signposted)
Cyprus
You must not drink or eat anything during driving (even water), and you must not use your car horn near hospitals, or in residential neighbourhoods unless in an emergency.
Denmark
Drive with a blood alcohol content over 0.2% and you will definitely end up in prison.
Estonia
Part of your safety kit in Estonia must include two wheel chocks to ensure you can stop your car on a slope if you break down.
Finland
The speed limits on motorways drops by 20kph between October and March.
France
You must always have a breathalyser in your car as it's illegal to travel without one. Of course, the French love a glass of wine at lunch, so a breathalyser is a commonsense device that can help ensure you're not over the limit. Check out this range on Amazon.
If a French driver flashes their lights at you it's because they are telling you they will go first. French drivers must carry spare headlight bulbs.
We wrote a more comprehensive article about driving in France here which outlines the ban on headphones among other things.
Germany
At certain times of the year you must drive with winter tyres.
Greece
You must not smoke behind the wheel.
Hungary, Czech Republic and Romania
Even stricter than Poland, they have a zero limit for blood alcohol when driving.
Iceland
It's illegal for a vehicle to move outside of the road's white edge lines in order to protect the island's flora.
Italy
You must always park in the direction of the traffic. Outside urban areas you must use dipped headlights during the day. You are not allowed to carry unrestrained pets in your car – you'll need a proper cage or netting in the rear.
Macedonia
Front seat passengers must not be visibly under the influence of alcohol
Malta
The Maltese often don't indicate when changing lanes as it's not compulsory
Poland
The blood alcohol limit in Poland is 0.02 and if you are caught over the limit you can be banned between six months and three years and end up in prison for one month at up to 0.05. From 0.05 upwards you can get up to a 10-year ban and up to two years in prison! The same limits apply when riding a bike. Norway, Ukraine, Sweden, Estonia and Latvia all have the same limit, but the majority of EU countries have a limit of 0.05%.
Scandinavia
Your headlights must be on at all times even during the day
Serbia
You must carry a tow bar and a rope of at least three metres.
Slovenia
When reversing you must also use your hazard warning lights.
Spain
If you need to wear glasses for driving, you must also carry a spare pair when driving on Spanish roads. Also in some Spanish cities there are parking laws based on the day of the week that determine which side of the road you can park your car on.
Switzerland
Cyclists must have cycle insurance – this is a yearly task and you will get a sticker to put on your bike. Drivers must carry a spare pair of prescription glasses. Picking up hitchhikers is illegal. Drivers that leave their keys in an unlocked car can be fined. You must not wash your car on Sundays.