Early 2015 the Hazard Perception Test will be modernised with CGI (computer-generated imagery) to make the visuals clearer and to modernise them with updated vehicles and surroundings.
The test comprises filmed video clips showing everyday road scenes filmed in first person where you have to identify evolving hazards on the road. The update allows the DVSA to take advantage of modern high definition resolutions to make the images clearer.
The old style image is on the left and the new CGI image is on the right.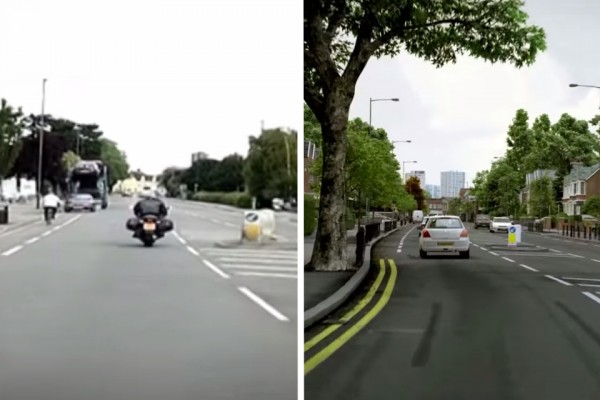 A developing hazard is something that may result in you having to take some action, like changing speed or direction, and by using CGI, DVSA can make more clips in the future based on hypothetical situations involving children, animals, motorcyclists and so on without putting anyone at risk while filming.
| Test type | Number of clips | Number of developing hazards | Pass mark |
| --- | --- | --- | --- |
| Car and motorcycle | 14 | 15 | 44 out of 75 |
| Lorry, bus and coach | 19 | 20 | 67 out of 100 |
| Approved driving instructor part 1 | 14 | 15 | 57 out of 75 |
You'll need to take a hazard perception test quiz to pass your test, and the easiest way is to do some practise tests. We recommend the Complete Hazard Perception Test for car, motorbike, LGV and PCV. Any existing materials like these are still relevant as there are no changes to how the test works.


You can see how the HPT works in this video clip:
And here's another example video showing a cyclist on the left – note how the cyclist isn't that visible