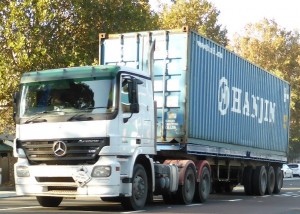 In a move that is set to level the playing field for the UK's freight industry, Transport Secretary Patrick McLoughlin has announced that foreign haulage firms will now be charged a fee for using the UK's roads. The charges were introduced on April 1st, which was a year ahead of schedule.
Other European nations levy tolls on foreign trucks using their road networks and this had been unfairly disadvantaging our freight industry. The change had been requested by the UK haulage industry for years.
Mr McLoughlin said: "The HGV levy will provide a massive boost for the UK haulage industry. It will create a level playing field across Europe, giving UK firms a much better opportunity to win business.
"This is yet another example of how we are taking positive action to back British business and build a stronger, more competitive economy," he added.
The levies are determined by the vehicle type, weight and number of axles, and are structured into bands.
The Department for Transport (DfT) has already implemented a number of measures to improve the competitiveness of our haulage industry including reducing duty on standard diesel (now lower than it was in October 2010, and holding the HGV vehicle excise duty (VED) stable.
If you are a lorry driver from outside of the UK and want to learn the UK's road rules, check out our free HGV Highway Code tests here.